Land your success as a leader by executing the 3 key steps of leadership as seen through the lens of your natural behavior style

THE WORK OF LEADERS MADE SIMPLE:
Vision, Alignment, and Execution
Everything DiSC Work of Leaders® approaches leadership as a one-to-many relationship, focusing on tangible steps directed at leading a group or organization toward desired outcomes.
Using the framework of Vision, Alignment, and Execution, Work of Leaders encourages leaders to understand their own leadership styles and how they impact their effectiveness. Rich, compelling narrative adds depth to the data and strong visuals support the learning process by illustrating key messages.
Work of Leaders provides a simple, three-step process to help you reflect on how you approach the most fundamental work of leaders: Creating a Vision, building Alignment around that vision, and championing Execution of the vision.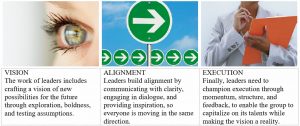 You'll get the Everything DiSC Work of Leaders® Profile:
23-pages of highly personalized assessment results

18 behavioral continua

Strong visuals illustrate key messages

Context-specific feedback

Tips and strategies for improving leadership effectiveness

Two-part assessment of leadership styles
We will combine this with professional coaching to map out your strategy and implement it effectively, including     
An initial DiSC Style coaching session, 60-90 minutes

Additional facilitation and coaching (in-person or video-conference) for each leadership step including the 3 drivers and how they interact with your behavioral style
I will design a customized learning and coaching package that works with your budget and timetable!
*Everything DiSC Work of Leaders® is a registered trademark of John Wiley & Sons, Inc. or its affiliated companies.